Christina Jansen photography: 'Time-Less' black and white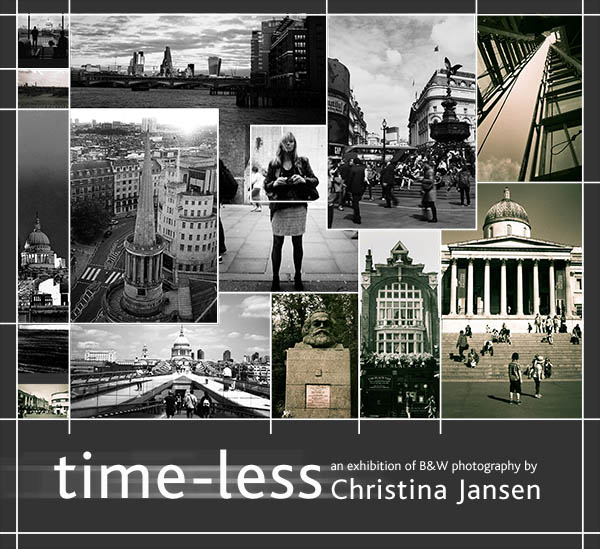 Christina's 'Time-Less black and whites' a series of monochrome images of London and the English coast in Kent are a featured item. Christina Jansen recently began taking photographs using a 1950's Olympus 35mm camera that had been left to her by her highly respected Dutch photojournalist father.
She noticed the images had a retro look, as though they were taken in the 50s or 60s, despite the modern clothing worn and the clues in the more recent architecture.

Christina uses a limited supply of vintage BW Kodak film which also contributes to this retro feel. She has now taken photographs around the country...in cities, country villages and stunning coastal towns. A unique beautiful set of images has emerged forming the "Time-Less' series, all of them juxtaposing the old with the new. Her works are available as limited edition prints or cards.
Timeless Price List
Prints unlimited editions 1/50 Signed and framed (we can supply frame).
A0 £550, Framed. Unframed £500
A1 £450, Framed. Unframed £400
A2 £250, Framed. Unframed £200
A3 £175, Framed. Unframed £150
For further information contact Christina:
TEL: 07973 677760
EMAIL: This email address is being protected from spambots. You need JavaScript enabled to view it.

PLEASE WAIT FOR THE GALLERIES TO LOAD


---

Gallery One.

---

Gallery two.

---

Gallery three.

---

Gallery four.