My thoughts, memories and reflections on the passing of Ali -
 a figure that
dominated world boxing - are also with all his friends
 and fans - as I, and
indeed all of us, reflect on his influence worldwide.
Christina Jansen, Saturday June 4th. 2016


POP UP EXHIBITION: Monday-Saturday (NOW CLOSED)
91 Peckham High street, Peckham, London SE15 5RS
It will run from the 7th June to the 27th / Opening times are 10 am - 6pm

In Memory of and in tribute to "The Greatest" Muhammad Ali... Pempeople in association with
KUDUmedia OdikaOdi and ArtisticNature - sponsors - are proud to announce the opening
of a Pop up Exhibition showing a selection of photographs from 'In the Rings with Ali'
curated by Christina Jansen - whose photographs also appear in the show,
see www.in-the-rings-with-ali.com



---
'A ROUND WITH MUHAMMAD ALI'
An exhibition of photographs by Christina Jansen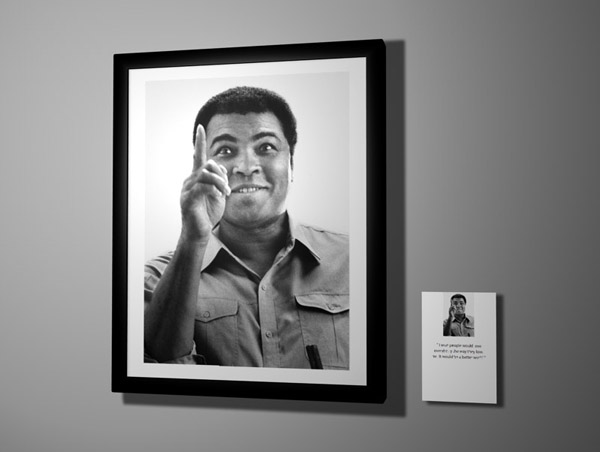 It was through the many positive comments on her work and especially her photo studies
of Muhammad Ali that the idea of an exhibition came to fruition with Energie Personal Fitness.
With the encouragement and dedication of Michelle Paul, personal trainer at Energie Personal Fitness and
the support of the rest of the team (Imran Ilahi Owner, Mark Harris, Susanne Carlen) inspired her to put
together a show of never before seen photographs of the now iconic boxer, humanitarian and fighter for
many heartfelt causes.
She had spent several days as a stills photographer on a film set in Fulham studios in 1986 getting to know
the man himself while taking a few very candid and personal photographs.The commercial film was for
a powdered milk drink called PRIMO part owned by Ali, directed by Directors International.
This filming is mentioned in Thomas Hauser's book Muhammad Ali 'His Life and Times' page 435.
This Exhibition of photographs shows you Muhammad Ali's wit and sense of humour as well as his vulnerability.
It is a rare chance to see the Champion behind- the-scenes and also it is an exclusive chance to buy signed
limited editions of these photographs.
"Muhammad Ali's name and image, used with permission, Muhammad Ali Enterprises LLC.


---
Venue (NOW CLOSED): Tapestry. The complete production agency.
51-52 Frith street London W1D 45H
Tel: 0207 896 3000 or call Christina on 07973 677760



Tapestry creative services exhibited 'A ROUND WITH MUHAMMUD ALI" in central London's Soho.


---
Past Exhibitions
Christina's Previous exhibitions include: 1995 'Landscape Impressions' in Laeso Denmark: A series of
commissioned landscape photographs for the Danish tourist board where images were sold as framed prints,
posters and postcards.
Celebrity portraiture at the Grosvenor House Hotel, in aid of the charity s.a.n.e (with patronage of HRH the
Prince of Wales).
1996 'Luminous Images' an exhibition of a series of dramatic colour photographs, shot under ultra violet light,
where dancers became vibrant ambiguous patterns, produced in conjunction with Dance unlimited at the
Green Room London W1.
She was also part of a show 'Canvas and Camera' at the Association of Photographers Gallery winning a prize for
best portrait of Gray Jolliffe the cartoonist of Wicked Willie fame published in the British Journal of photography.